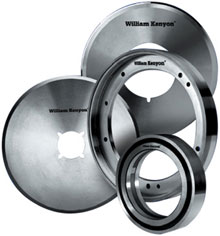 Pulp and Paper
William Kenyon manufactures top slitters and anvil knives for all of the major winders and re-winder stands in use today using the highest quality tool steel of your choice and precision manufacturing processes. Each knife is etched with the alloy type, special treatment specifications, and customer part number to simplify inventory maintenance and tracking of the products performance.
Anvil knives with a solid carbide ring available.
A large inventory of standard knives and anvils is maintained for quick delivery
Non-standard and custom knives available
Perforating Blades made to the highest tolerances to ensure…
Longer blade life
Fewer broken blades when perforator head is wrapped
Available in:
CPM 10V
High speed steel
Blades made to you specification

Number of bonds per edge
One edge, two edges, and /or ends bonded
Height, thickness, length and radius
Blade lengths up to 180″
All perforator blades are etched with a part number unique to your bond patterns and materials Large inventory of standard size blanks for immediate bonding and delivery. Carbide anvils with a radius cut edge in stock.
Inventory programs available to release blades on a pre-set schedule or by P.O. reducing on-site mill inventory levels
William Kenyon has the technology and manufacturing processes in place and is committed to supplying the converting industry with the highest quality, close tolerance, perforating, circular and flat knives for all of your converting requirements Download Brochure