Mounting Hardware
William Kenyon® supplies a full array of mounting hardware to position and angle sheaves into virtually any orientation. Combinations of Mounting Blocks, Shafts and T-Arms allow for infinite, three-axis sheave adjustment to ensure proper alignment and prolonged rope life. Stock sizes range from diameters of 1 inch (35mm) to 2 inch (50mm) and in a variety of lengths. Stainless Steel components are available upon request for wet press, size press and coater applications.

T-Arm:
All T-Arms are centerless ground steel, for a smooth fit, and have a full strength penetration weld for maximum strength. A pilot hole is predrilled in the head for ease of pinning. A black oxide coating is applied to inhibit rust.

Universal Mounting Block:
Universal Mounting Blocks are fabricated of steel and finished with a black oxide coating to inhibit rust. Mounting holes are cross-drilled to allow either parallel or perpendicular insertion of the shaft or T-Arm. A pilot hole is predrilled for ease of pinning.

Straight Shaft:
Centerless ground steel for a smooth fit and finished with a black oxide coating to inhibit rust.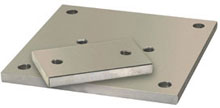 Concrete & Weld Plates:
Steel plates designed to be anchored into concrete or welded on Teenies having sex free video – creampie,teen,hardcoreto steel frame members to create a flange for quick mounting of the Universal Mounting Block.

Grease Through Shaft:
Identical to a straight shaft, but with a grease hole drilled through the center of the shaft with an outlet that matches to the sheave location.