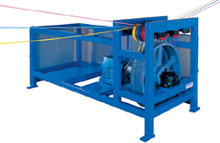 Carrier Rope Drive
Drives ropes in applications where the ropes are to be independently driven such as a coater, size press, wet press and reel sections.
Available in a variety of sizes from 5hp (4kw) to 100hp (75kw) in one, two and three rope configurations.
Can be supplied with or without motor, gearbox and controls.
Large diameter drive wheel has a wedging profile and a double rope wrap configuration to eliminate rope Sexy latinas free porn – hardcore,blowjob,pornstarslippage.
Optional guard packages available upon request.